Dog walkers often work across a variety of hours, but most only work daytime weekdays
Many are self-employed, so they choose when they want to work
There are full-time and part-time dog walkers
Some work evenings and weekends
Some provide an on-call service whenever they are needed
Busy lives mean some dog owners don't get out to walk their dogs as often as they'd like.
I work from home, so I'm able to take Freya, our Bichon Frise, out first thing in the morning and again later in the day if it's not too warm.
Yet plenty of people work full time in another location. Maybe you do, too. That could mean your pooch is left alone for hours at a time. This is when a professional dog walker can make all the difference to you and your pet.
If you're searching for information on dog walkers and when you can rely on them to come see your dog, you're in the right place. I'll guide you through the info you need. You'll know when they work and when you can hire them.
Many Dog Walkers Are Self-Employed and Set Their Own Hours
This has good and bad points for you. Firstly, the good. Regardless of what time would be ideal for your dog to be taken for a walk, there is likely to be someone out there ready to assist at that time.
Next, the bad. While you could find people willing to walk your dog at unsociable hours, you're likely to have far fewer dog walkers to choose from. Unsociable hours are those outside daytime Monday to Friday.
Of course, since most dogs happily sleep through the night, the latest you'll need your dog to be walked is probably just before bed. In most cases, you can probably handle that on your own.
Dog Walkers Work Full Time and Part Time
As you start looking at various dog walking services and individuals, you'll see that no two are likely to be identical. There is a lot of scope for finding a service that fits your needs.
Most individuals who set up their own dog walking business start part time. They gradually build up the hours as they find more clients. This could mean they work around the middle of the day, walking their clients' dogs to break up a longer stint they'd otherwise be alone for.
Sharing a personal experience…
I have a relative who provides this service. She works around 30 hours per week, but it can vary depending on what her clients require.
She has clients who pay a regular weekly fee for a daily walk at the same time each day, often between 11am and 2pm if it isn't hot.
She also sees a drop off in bookings during the summer when lots of people go away. They either take their dogs with them or book them into kennels.
Conversely, she often has more business during the winter. Some people are fair-weather walkers and would rather get someone else to walk their dogs in the rain and wind!
Working Fewer Hours Is a Goal for Some
I read a great story online of a dog walker in Montreal who only works three hours a day, five days every week. It's a wonderful example of how someone can provide an essential service and tailor it to their needs.
It suits him, and he still earns a decent income during those hours. Of course, if you tried to book him to walk your dog, you'd likely find he had no time left to do so.
A Dog Walker Usually Offers 30-Minute and One-Hour Options
It is common to spot services charging by the hour or half hour. You can expect to pay for 30 minutes at the minimum. I found one service that offers 15-minute walks, but it seems to be an exception. 
If you want your dog walked solo, i.e. without any other dogs being present at the same time, you may have to  pay more for the privilege. It's something to think about for several reasons:
Your dog is antisocial with other pooches
It gets distracted easily when other dogs are around
Conversely, being walked with other dogs means your dog is socialized more
As for pricing, it varies according to where you live.
Average prices in 2018 ranged from $15.63 per hour to $18.26 per hour depending on location. Meanwhile, many other sources say you can expect to pay an average of $20 an hour today.
It's often cheaper pro-rata to hire a walker for an hour rather than 30 minutes. If your dog is fine to walk for an hour, it's a better option if they're going to be home alone for a while afterwards.
Many Dog Walkers Have Their Hours Booked up Quickly?
This depends on several things:
Where they are based
The demand for their services
How often they work
The price they charge
How popular each individual dog walker is
You'll want a popular and reliable person to entrust your dog to. That makes them harder to book at a convenient hour (or even at all), so bear that in mind.
Booking well in advance is a good idea. A last-minute request may incur a higher fee. Even if it doesn't, there is less chance the dog walker will still be available.
It is trickier to find a dog walker for evening or weekend walks
Maybe you do shift work, and you need someone to walk your pooch in the evenings as you'll be late home.
It's not impossible to find a walker covering those hours. Since they're mostly self-employed, they're able to decide which hours suit them best. So, for example, they might choose to work evenings if they have:
Daytime classes to attend
A part-time job
Children of school age
A partner working evening hours, so they can both be off at the same time
A full time job, and they do dog walking as a second income. Some people even do the dog walking on their way home from work.
It's certainly easier to find someone who works through the daytime hours. However, this is a growing industry. Some people work two jobs – one as a self-employed person and another as an employee.
In 2016, dog walking was said to be worth approximately $907 million per year. It was estimated to grow by some 3% per year too, so we're talking about an industry that could now have reached $1 billion a year.
That's a lot of walkers taking out plenty of assorted pups!
The bottom line? There is someone out there, likely local to you, who works as a dog walker during the very hours you need them. You just need to find them.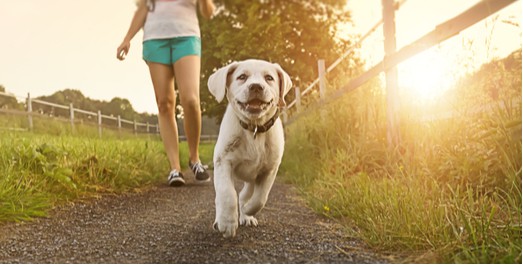 Some Dog Walking Services Have an On-Call Service Too
Imagine this. You're at work, almost ready to leave, and something urgent comes in. It could be an emergency. It might be something that delays you leaving your workplace for a bit – maybe for an hour or more.
What happens then?
How does your pooch manage while you're still at work?
On-call services are far less common than standard dog walking services. However, they do offer several advantages:
You get an emergency number to call if you're going to be delayed
Your dog walker can fetch your dog and take them out at short notice
This means:
Your dog doesn't need to wait for you to return
They can be taken out to toilet or for a short walk
This service costs more than a pre-booked service. However, while you may rarely use it, it's good to know it is there if you don't have a relative nearby who can help at times like these.
It's Easier to Cover the Hours You Need If You Use a Bigger Dog Walking Service
When I researched dog walking services for this article, I discovered everything from major businesses covering multiple countries to one-man or one-woman outfits operating in a local area.
If you need a dog walker to cover weekends or evenings, you may have fewer options. That would mean it's easier to find someone who caters to your needs by accessing a larger service.
Some services are websites offering listings to participating dog walkers. Others are businesses that have expanded to employ their own walkers to handle the demands of their clients.
Either way, you can expect to hire a walker to make sure your pooch is exercised whenever you need them to be.
You Could Provide Your Own Dog Walking Service
Maybe you are thinking about the possibility of working for yourself by providing this service to other dog owners in your area. If you are out walking your dog anyway, could you walk those belonging to other owners as well?
If you're the one offering the service, you can indeed set your own hours. Maybe you're looking for a way to earn money while your kids are at school, for example.
You can read some stories of how other dog walking services operate to help you figure out whether this might be an option.
Booking Group Walks vs Solo Walks
Remember the relative I mentioned earlier? She takes out three or four dogs at a time if her clients are happy for their pooch to go on a group walk. She has experience and the confidence to do this and keep the dogs under control.
If you find someone like this, it's more likely they'll have availability to walk your dog at the time you want. Of course, you're still restricted to whichever hours they are happy to work.
Regular dog walks: Beneficial for you, your dog, and the dog walker
Everyone is happy when you find a trustworthy and responsible walker to take out your dog whenever required. Now you know when they work, you can find someone that ticks all the boxes for you.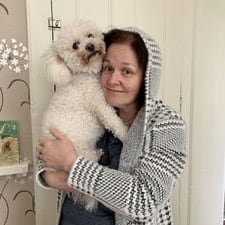 Sources:
https://www.petsit.com/dog-walking-4-tips-for-successfully-offering-this-service
https://www.alainguillot.com/interview-with-a-dog-walker-who-works-3-hours-per-day/
https://www.marketwatch.com/story/this-top-nyc-dog-walker-makes-110000-a-year-2016-02-05
https://www.rover.com/blog/toys-to-keep-dogs-busy/
https://www.theglobeandmail.com/life/the-pros-and-cons-of-dog-walkers/article29709419/
https://www.care.com/c/stories/15939/how-much-money-do-dog-walkers-make/
https://www.thebalancecareers.com/dog-walker-125593
https://www.protectivity.com/knowledge-centre/a-day-in-the-life-of-a-dog-walker/