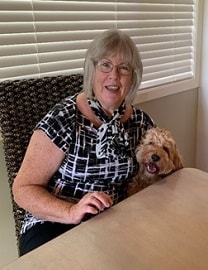 If you are a dog owner, you will relate to trying to get a professional picture taken and having your dog photobomb the picture!
I am living my dream life, doing what I love to do and that is writing from home and I get to enjoy the company of my little 1 year old Spoodle called Evie as well.
She just seems to pop up from anywhere for a snuggle or with one of her manky chewed toys for a game.
Evie has the energy of a dozen dogs and loves to chase a stick I have thrown when we are outdoors.
You think she would get tired after chasing the same old stick tossed a few dozen times, but no. Every throw is as exciting as the first.
And that is what I like about dogs. They have enthusiasm, they have unstoppable energy, and they have a positive take on life. Even taking out the trash is exciting to them.
When I have a deadline, Evie curls up on the seat beside me and takes the opportunity to grab a nap and replenish her energy. Then when I am finished or take a writing break, she is the first to the door to go outside.
I have to be mindful about practicing what I preach, which is that a young dog needs to be trained to acquire the discipline that makes them a pleasure to take out into the community. I want a companion that doesn't run away or one who starts to bite in their excitement.
It is one thing to write about dogs, but in reality, it is a bit tougher to pit your wits against a gorgeous but sneaky pooch who has big soulful eyes on their side to get the upper hand and get what they want! You need to have regular training sessions that are not too long for a young dog, and have them often so your furbaby remembers what they learn.
But I must admit, patience does pay off. Evie has learned several tricks, she has even learned to ring a bell I have attached to the door to let me know when she needs to go to the toilet. This 'trick' has a dual purpose – when I write I tend to lose track of time, so for Evie's sake, I had to devise a trick to bring me back to reality.
Evie is my confidant, my friend, my companion and that is how it is when you have a dog.
And as for writing, it is easy to write about what you love.
So for me, being a writer and owning a dog is a winning combination.